Bushranger Bikes also provides community based cycling programs for local government through Brisbane City Council's and Moreton Bay Regional Council's Active Lifestyle Programs.
I hope that I will see you along on a ride or tour soon - Jon.
---

Brisbane City Council GOLD (Bushranger Bikes delivered) Cycling Programs are now available - July to December 2017 Click Here
---
*Media Coverage:
- Bushranger Bikes featured on Channel 7's Queensland Weekender with a focus on my Southeast Queensland Whale Trail Cycling tour. For a peek at the promo and to find out about this tour click here.
Also check out the latest story on Bushranger Bikes tour on 'Weekend Notes'.
Even better - why not join us for some great cycling fun! E-mail info@bushrangerbikes.com.au
---

2017 - New Tours, New Half and Full Day Local Rides, More 'Trails', Less Road Routes & Bitumen - it's Cycling Adventure Time!
What's on at the moment..........

Pt Cartwright - Sunshine Coast
The 'Five by Five' was a great program of rides - thanks to all who came along, joined in the fun and supported Bushranger Bikes.
1. What's next? Okay I need to keep coming up with some new, fun and exciting cycling activities so one I have been considering for some time is my Two Brews ride!
This will be an afternoon ride in the Brisbane Northside burbs with a distance of between 25 and 35kms, bike paths and connecting quiet streets, mainly easy undulations - so nothing too strenuous. The concept will be to ride to a couple of my favourite secret establishments and sample one of their specialty cold brews in each location.
Cost will be $25 per person and includes the ride, the two brews and lots of fun!
Bookings will be essential and you will need to be in to find out what it's all about - otherwise the secret will be out!
Once I have set a date I will send an e-mail newsletter out to everyone who is signed up.
2. Also - again once I have worked out available dates Bushranger Bikes will be running a one or two night trip to the Noosa Hinterland to ride some of the Noosa Trail Network. These are mountain bike trails - not necessarily technical but some big climbs that can be testing if moutain biking/off-road cycling is not something you do a bit of. These trails are great, views brilliant, location awesome but expect to get off and push some sections and be tired at days end!
There will be some hotel accommodation (comfy but not 4 star) available and plenty of camping options for rigs & tents.
Bookings will be essential.
Again once I have set some dates and have ride details I will send an e-mail newsletter out to everyone who is signed up.

Want to make sure you don't miss any of the Bushranger Bikes adventure cycling programs in 2017? Sign up for Bushranger Bikes Newsletters - http://www.bushrangerbikes.com.au/subscribe.htm
_________________________________
Interested in Cycling Adventure Tours? The full Bushranger Bikes tour program is now available. Check out the calendar......Here!
Make sure you don't miss out on the fun - enquiries and bookings are being taken now.....info@bushrangerbikes.com.au
---


Springtime Cruising - Great Victorian Rail Trail, Victoria

Bushranger Bikes 2017 Feature Tour Destination.......North

Eastern Victoria. This tour is a 'confirmed start' For details - Click Here

Spring 2017 13 to 21 October 2017 - The three Rail Trails Tour - Fantastic cycling, produce, wine and heaps of fun!
Summary:
Bushranger Bikes is running a 8 night/9 day 'Stunning Spring' tour to this fantastic region of Australia taking in the delights of the North Eastern Victoria high country, a night in epicurean Rutherglen - vine & wine central, a night in Bright at the top of the Alpine Way, 2 nights stay in beautiful and historic Beechworth, and a night in gourmet Milawa. Then it's onto the Goulburn River Valley to have some fun cycling the new Great Victorian Rail Trail - commencing at Mansfield and riding through to Tallarook over two days.
This region of Victoria is the land of vineyards, tobacco, hops, berries and bakeries and an abundance of local produce is waiting to be sampled.
This tour commences in the north with a cycling warm up on a newer section of the Murray to Mountains trail from Rutherglen to the Murray and the NSW border. Then it's a spin on the great High Country Rail Trail which skirts the shoreline of Lake Hume on the Murray River. The recent rains have filled the lake and it is now a sight to see, and with the completion of the 660 metre long bridge across Sandy Creek inlet this trail that runs between Wodonga and Old Tallangatta is a brilliant ride.
Then we transfer to Bright and pick up the Murray to Mountains (M2M) - Victoria's best rail trail, and arguably the best in Australia. We will follow the trail down to Everton and then divert for the climb up to Beechworth. The next day will provide time to explore on bike and foot around Beechworth, check out the sights and history, and also provide a part rest day.
We then take the M2M for an exhilarating downhill blast back to Everton Station, pick up the main line again and follow this through to Milawa. Depending upon time available and energy levels this might include a loop through Wangaratta and then out to Milawa via Oxley.
And there's more - from Milawa we will take a brilliant scenic drive across an alpine range and pick up the new Great Victorian Rail Trail out of Mansfield - 130kms of perfect backcountry adventure cycling through to Tallarook.
Accommodation will be in high quality boutique establishments with an emphasis on something different or historic, and the food is fantastic - a trade mark of Bushranger Bikes tours.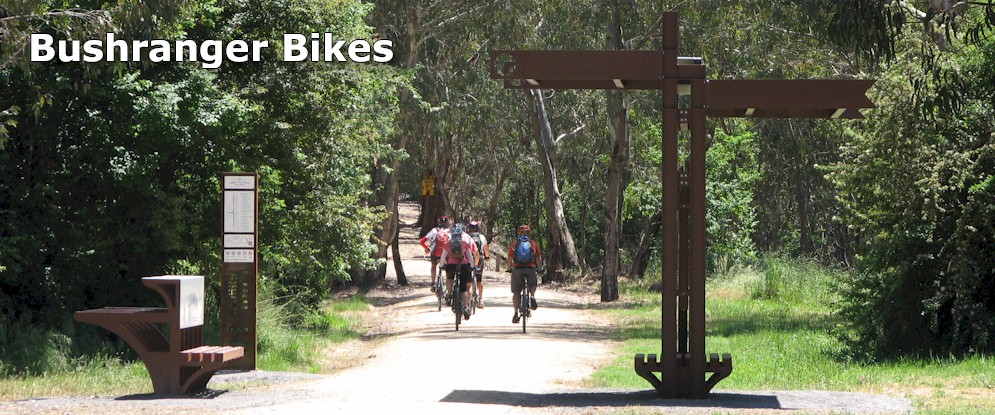 Great Victorian Rail Trail
For information, dates and cost - E-mail info@bushrangerbikes.com.au For details - Click Here
---
What are Bushranger Bikes Back Country Cycling Tours all about?

Adventure Tours For Adventurous People:

Bushranger Bikes organises and runs a range of fully supported tours in Queensland, New South Wales, Victoria and New Zealand - offering the best recreational cycling trails & routes in the world.

All Bushranger Bikes rides, tours, and cycling activities are primarily off-road (or away from busy roads) and fall into a category that I call 'Back Country Tours'. Rail Trails, Wine & Food Trails and my new Whale Trail

TM are the Bushranger Bikes speciality, and my trips aren't just about cycling - they provide the full holiday experience that highlights everything the destinations have to offer.

The tour packages that Bushranger put together cater for small groups (6 to 8 people) and are suitable for all adventurous recreational cyclists. They offer an unforgettable adventure experience that will take you to the best scenery, wrap you in seasonal colour, acquaint you with local history, leave you breathless with awesome scenery - mountains, glaciers, beautiful lakes, rivers, fiords, wide open spaces, 'big sky country' or ocean vistas - and leave you dreaming about remote rail trails and fantastic food and wine.

The Bushranger Bikes tour trademark is a mix of adventure, achievable challenges, heaps of fun, personalised service and a focus on safety and good tour management. Great food and quality accommodation are assured - places that are different, historic, remote or boutique.

More information on my tours can be found on the Calendar page, Tour page or check out the 'Feature Tour' above.

Join me for a fantastic adventure holiday

Jon Newrick - Bushranger Bikes
Check out the Bushranger Bikes 'Repeat Offenders Club' tour Rewards Program - HERE!
Other dates and custom group tours are available, including Southeast Queensland and New Zealand mountain bike tours - please contact Bushranger - info@bushrangerbikes.com.au for more information or to discuss options.