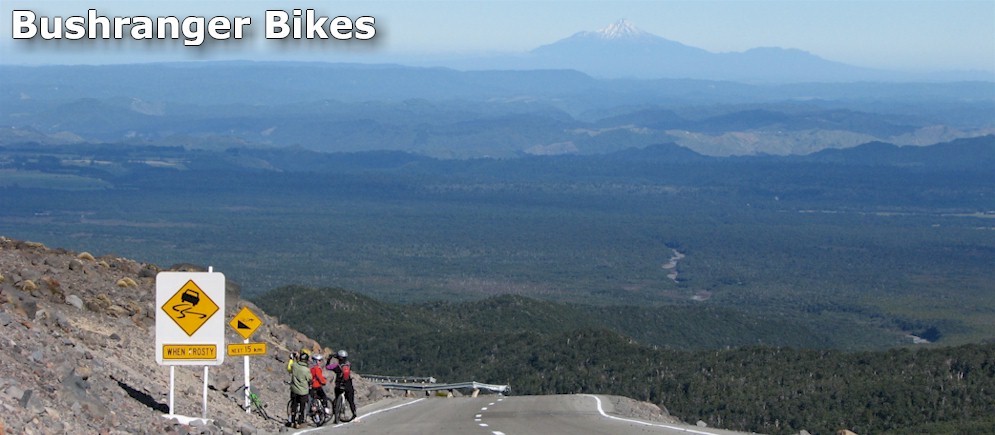 WOW! Turoa with Mt Taranaki in the distance!

Bushranger Bikes North Island Volcanic Madness and Wine Trail Back Country Cycling Tour:
13 Days/12 Nights of pure New Zealand Back Country Cycling and Wine Magic. This trip is fantastic!
**Bushranger Bikes New Zealand tours are currently on hold - however please have a look at the trip itineraries and if you see something there that interests you please contact me to discuss options. Please e-mail info@bushrangerbikes.com.au
---
This is a fantastic Bushranger Bikes Back Country tour itinerary!
Jump on board for a great trip! A chance to explore the bays, coast and harbour of magic Wellington, the beautiful river trail of the Hutt Valley, lots of downhill riding from the Central Plateau mountains, one of new Zealand's great new trails along the coast of Hawkes Bay, and some relaxing back country roads through the wine region of the Wairarapa. Plus lots more!
---
* Itinerary Overview: Back to Tour Information
Day 1: Arrive Wellington mid/late afternoon. A city explorer walk, drinks and dinner. Wellington is funky city with plenty of great shops and pubs.
Day 2: Ride Wellington Harbour road around the bays – great scenery. In the afternoon we can ride up Mt Victoria for some great views and cruise the city harbour front. More time in the evening to check out town.
Day3: Ride the Hutt River trail and on over the Akatarawas on the Staglands Road – awesome back country cycling. Lunch at Staglands, then down to the Kapiti Coast and into Raumati on the beach via Waikanae River Trail. Check out Queen Elizabeth park in the evening - ride or quiet stroll with the sun setting into the Tasman Sea.
Day 4: Transfer to the Ski village of Ohakune and enter the Volcanic Plateau Region. We cruise into the depths of Tongariro Forest following one of New Zealand's great new trails – the Old Coach Road – 28kms return. The highlight is the amazing viaduct!
Then ride the awesome downhill run (18 kms bitumen access road) from Turoa ski fields starting above the snow line and transitioning into the lush alpine forest. From up high on this side of Mt Ruapehu you can see Mt Taranaki on the West Coast.
Day 5: Around to the northern side of Ruapehu (morning tea at the Station – National Park Village) and we drive to Whakapapa Village and to the 'Top of the Bruce' for another bitumen gravity downhill run. This is riding above the snowline – a moon scape and it is breathtaking.
Lunch will most likely be at Fergusons or Pihanga café on the mountain - but depending upon timing there are many great options in the region all offering fantastic food.
Then on to Turangi on the southern shores of Lake Taupo with a couple of adventure rides and some back forest sight seeing along the way.
Day 6: Up early for a cruise on the Tongariro River Trail. This is New Zealand's best trout fishing river – cool, clear and beautiful. Then we hit Taupo – we will unload the bikes on the way into town at Five Mile Bay and ride the shoreline track into town. Along the way there are fantastic views back over the Tonagriro National Park mountains and the lake. We will ride past the thermal Hot Springs on the lake shore at Two Mile and then to our centrally placed accommodation.
In the afternoon we will visit Huka Falls on the Waikato (NZ's longest) River, awesome power. Dinner will be at my favourite English Pub.
Day 7: Today we cross the ranges and head into Hawkes Bay on the east coast. We will stay in Napier which is famous for its Art Deco architecture and the Hawkes Bay Region is also a key New Zealand produce, fruit and wine area. Sampling is on the agenda for today! On the bikes and we follow another new trail - the 'Hawkes Bay Water Ride' - to world class wineries – Church Road and Mission Estates. In the evening we can check out the views from Bluff Hill and the hip Ahuriri precinct.
Day 8: Today we cycle south along the coast and then pick up some back roads into the Havelock North area - considered one of New Zealand's most desirable areas to live. Cape Kidnappers is a prominent coastal landmark and then we are into the picturesque Tuki Tuki River Valley and the shadow of Te Mata Peak – another afternoon gravity down hill ride coming up! Black Barn and Craggy Range vineyards are impressive.
Day 9: Hit the road south and we drive through the rural lower Central North Island and into the Wairarapa Region – another of New Zealand's award winning wine regions. Our lunch venue along the way is really something unusual and lots of fun. We will stay the night in Masterton and we can go for a spin on the bikes in the evening, if we have time, to keep the legs pumping.
Day 10: Today we are riding the back roads from Masterton to Martinborough – definitely one of New Zealand's funkiest little towns and a great ride. Famous locally for great vineyards, cafes, and markets. Lunch will be at a country pub along the way and again our accommodation is something special.
Day 11: We drive over the Rimutaka Range this morning and then on the bikes to follow the old Rimutaka Rail Trail up to The Summit and through the impressive 580 metre tunnel. It will be a more leisurely ride back down and there is the option to ride through to our accommodation on the Hutt River at Silverstream or at Petone
Day 12: We ride from Silverstream back along the Hutt River trail in the morning to Petone – a quaint harbour village with very interesting shops. In the afternoon we can ride (great single track and one of my favourites) or walk the Korokoro Gorge trail and go for an evening stroll through town or along the shore of Wellington Harbour. If there is time we may also fit a drive around to Eastbourne for a coffee. Then it's time to clean and pack bikes.
Day 13: We can spend the morning sight seeing around Wellington including Mount Victoria and the Wind Turbine.
Then grab lunch at one of my favourite cafes before we head to the airport early/mid afternoon. Back to Tour Information
* Please note that the itinerary may be subject to minor changes dependant upon finalization of accommodation bookings, weather conditions, and other unforeseen circumstances.
This tour is rated as Grade 2 to 2+ and is suitable to a broader range of recreational cyclists looking for all the ingredients of a magical New Zealand cycling adventure with achievable distances and more moderate terrain. Places on this tour will be limited to 6 to 8 people so if you are keen, express your interest early.
---
What's the cost?
Cost is Au$4300 per person* for the land content and includes quality accommodation (12 nights - share basis), 12 breakfasts, 12 dinners, 6 lunches, transfers as outlined above, guide(s) with great local knowledge, plus ride and mechanical support. A Single Supplement of Au$900 may apply*.
Please note - a support vehicle will be available but the cost is not included in the tour price and is not part of the tour package provided by Bushranger Bikes. For legal reasons the vehicle will be organised as a shared hire arrangement with the cost covered evenly by everyone on the tour, including Bushranger Bikes. Expect the cost of the vehicle per person to be between Au$250 and Au$300. For more info on this please e-mail.
* Prices are subject to change and can be impacted by rising fuel costs and fluctuating exchange rates.
Go on – put this tour on your to do list, put a tick beside it and contact Bushranger today for more information – info@bushrangerbikes.com.au . www.bushrangerbikes.com.au
**Bushranger Bikes New Zealand tours are currently on hold - however please have a look at the trip itineraries and if you see something there that interests you please contact me to discuss options. Interested? For all the details and information about all Bushranger Bikes tours please e-mail me - info@bushrangerbikes.com.au
All Bushranger Bikes tours are professionally organised, managed & fully supported with quality accommodation, vehicle transfers and support and most meals included.


Ghost rider - Kapiti Coast
A note about Bushranger Bikes Back Country Cycling tours - click here. Back to Tour Information
Other dates and custom group tours are available, including Southeast Queensland and New Zealand mountain bike tours - please contact Bushranger - info@bushrangerbikes.com.au for more information or to discuss options.

---


Tongariro Mountains, Central North Island
---
My tours are not hardcore bike races across the country side where the scenery is just a blur. They are adventure rides for adventurous people, of all ages with something for riders of all skills and fitness levels. You actually get to experience the places you travel through, take in the magic, breathtaking scenery of New Zealand, Victoria and Southeast Queensland, and enjoy the cycling experience with friends. Go on – put one of my tours on your to do list, put a tick beside it and contact Bushranger today for more information – info@bushrangerbikes.com.au
Please Note: Bushranger Bikes reserves the right to cancel the tour or change tour content and trails ridden without prior notice depending upon participant numbers, weather conditions and other variables to ensure the safety and fun factor of our tours.